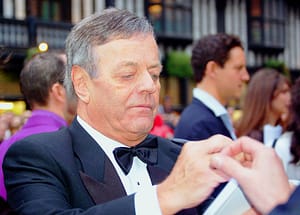 Tony Blackburn is best known for being one of the original Radio Caroline DJ's in the 1960's, and his breakfast show was the first show to be broadcast on BBC Radio One when it was launched on 30th September 1967.
Tony was born in 1943 in Guildford in Surrey, but the family moved to Bournemouth 3 years later, living in the next road to where I grew up in the village of Lilliput.
He originally wanted to be a singer, but despite releasing 14 singles in the early 1960's, his singing career didn't take off, and he found work as a DJ on the offshore radio stations Radio Caroline and Radio London, which were based on board ships that were anchored just outside the UK territorial limit.
In 1967 Tony joined the BBC and his breakfast show was a bit hit, mainly due to his fun and friendly style and terrible corny jokes. He went on to take over hosting of the Sunday morning show for children Junior Choice and in more recent years he has presented shows on Radio London and Capital Radio, as well as co-hosting Seaside Special on BBC Television.
In 2002 Tony Blackburn became the first winner of the reality show "I'm A Celebrity get Me Out Of Here" and in 2010 he took over as host of the long running radio show "Pick Of The Pops".
Tony published his autobiography in 2007 entitled Poptastic!: My Life in Radio
Tony Blackburn Videos
Radio One Opening Show
Piers Morgan's Life Stories: Tony Blackburn Part 1 of 4
More Information About Tony Blackburn
Image Credits
Image used under a Collective Commons License from https://commons.wikimedia.org/wiki/File:Tony_Blackburn.jpg