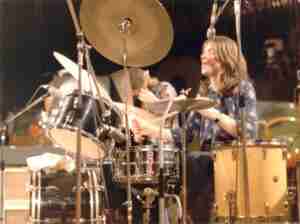 Colin Eric Allen is a jazz/blues drummer and songwriter who was born in Bournemouth in 1938.
He has played with a number of artists, including Zoot Money, Andy Summers (The Police), Bob Dylan, John Lee Hooker, Solomon Burke, Marc Bolan and T.Rex, Focus (the Dutch band best known for the yodelling on the single "Hocus Pocus"), Eric Clapton, Donovan and Stone The Crows.
As a songwriter, Colin's works have been recorded by artists that include Paul McCartney's Wings and Fleetwood Mac.
Most recently Colin Allen has performed with the British Blues Quintet, alongside other British Blues/Jazz legends Zoot Money, Maggie Bell, Miller Anderson and Colin Hodgkinson.
Colin started his working life in aircraft engineering, but his love of jazz and playing the drums led to him playing with other local jazz musicians and in 1963 he became a member of Zoot Money's Big Roll Band, the lineup including Andy Summers who went on to be a member of The Police.
From 1964, having moved to London, Colin played as a session musician on a number of albums. In 1974 he joined the lineup of Dutch band Focus, replacing drummer Pierre van der Linden and performing on their albums Hamburger Concierto and Mother Focus.
Colin is also a songwriter and has written and co-written about sixty songs, some of which have been recorded by Paul McCartney's Wings (Medicine Jar, first released on Venus And Mars) and Fleetwood Mac (Wish You Were Here).
Colin has lived in Stockholm, Sweden since 1985 and has played with a number of local musicians, including the well known Totta's Blues Band.
He retired from drumming in 2012 and published his memoirs in 2018. From Bournemouth To Beverly Hills: Tales Of A Tub-Thumper is available on Amazon.
---
Colin Allen Videos
Stone The Crows
Focus
John Mayall & The Bluesbreakers
British Blues Quintet
More Information About Colin Allen
Image Credits: Copyright: Colin Allen. Photo used with permission.