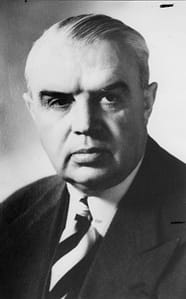 James Guy Payne Audain was born 8th July 1903 in Bournemouth.
He was the son of Colonel Guy Mortimer Audain, originally from Ireland, who served in the Army in India in the Hyderabad Contingent of the Indian army.
His mother, Sarah Byrd Dunsmuir, was daughter of former B.C. Premier and Lieutenant-Governor Hon. James Dunsmuir.
James's father took a long leave from the army in 1901, returning home via Victoria, where his cousin Robert Cassidy QC introduced him to a wealthy coal baron, James Dunsmuir. On 29th October 1901, Guy married his daughter Sarah Byrd Dunsmuir and took her to India, which she hated. They returned to Victoria in 1905, so I assume their son James was born while they passed through Bournemouth on the way to India.
Guy came out of retirement during the Great War to help as a liaison between the British and Indian armies. In 1914 the family moved to England where Guy served at the Indian Military Depot.
James was educated at Wellington College in Berkshire and after at the Royal Military College at Sandhurst where he joined the British Army as a cavalry officer.
I have found little information about James's career in the army, but in any case he would have been too young to serve in the First World War. He was in the 7th Queens Own Hussars, which started the First World War in India before being deployed to Mesopotamia in 1917. The regiment was transferred to the Royal Armoured Corps in 1939. He was promoted to 2nd Lieutenant on 30th August 1923.
James was married to Madeline Marie Stulik in Bournemouth after a whirlwind romance. She was a London dress model while James had meanwhile retired from the army. They apparently lived in Yeovil for a while.
They had a son, Michael Audain who was born on 31st Huly 1937. The marriage didn't last, however, and James moved back to Canada with his son, while Madeline moved to South America.
James spent much of the rest of his life in Victoria, British Columbia, the home of his mother and grandparents.
Here, he turned his hand to writing, publishing a biography of his family, From Coal Mine to Castle: The Story of the Dunsmuirs of Vancouver Island in 1955. He also wrote a book about the problems of alcoholism, Courage to Change The Things We Can which was published in 1960. His third book, My Borrowed Life, which was published in 1962, deals with his own problems with alcoholism. In 1964 he also published a book about his great-uncle Alexander entitled Alex Dunsmuir's Dilemma.
James Audain died on 30th October 1970 at the age of 67 in Victoria, British Columbia. He is buried at Royal Oak Burial Park Cemetery in Victoria.
---
Books By James Audain
---
Sources
Image Credits: City Of Vancouver Archives