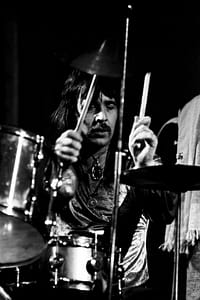 Lee Kerslake was born in Bournemouth in 1947 and is best known as drummer for Uriah Heep and the Ozzy Osbourne band.
Lee first joined Uriah Heep in 1971, and played with the band until 1979, when he left but rejoined in 1982. He left the band in 2007 due to health problems.
During his hiatus from Uriah Heep, Lee played together with bass player Bob Daisley in Ozzy Osbourne's band. Both of them were not listed in the credits for the Diary Of A Madman album, and just after the recording sessions they were fired. A lawsuit was raised against the Osbournes, seeking royalties and credits, but their performances were later erased from the album. The lawsuit was later dismissed.
Lee Kerslake played on probably the best Uriah Heep albums, Demons & Wizards and The Magician's Birthday, both from 1972.
Lee sadly passed away on 19th September 2020 at the age of 73 after suffering with cancer.
"It's with the heaviest of hearts that I share with you that Lee Kerslake, my friend of 55 years and the best drummer I ever played with, lost his battle with cancer at 03:30 this morning," Kerslake's longtime Uriah Heep bandmate Ken Hensley wrote, according to Classic Rock. "He died peacefully, praise the Lord, but he will be terribly missed."
You can read more about Lee Kerslake in this article from Ultimate Classic Rock.